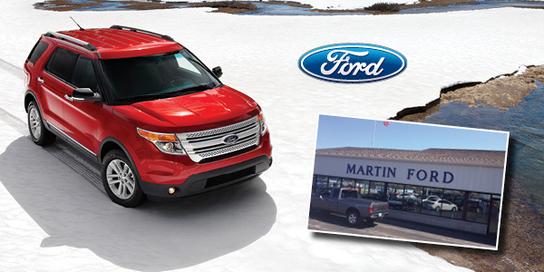 Martin Ford Sales Serving Kenosha, WI

There simply isn't a better vehicle for the Kenosha area than at Martin Ford Sales. The people of Kenosha love their city and they also love getting out of their city. The 2015 Ford lineup can help Kenosha do both. Ford trucks, cars and SUVs can take you from downtown Kenosha to out of town.
Ford Crossovers & SUV's Kenosha, WI

The Ford Edge and Ford Flex are perfect options for taking city dwellers into the wilderness and back again. They can handle like sedans, but haul your stuff like a SUV. Both Ford crossovers offer engines that are fuel efficient, but don't skimp on the power. The high-performance 2015 Ford Edge Sport comes with 305 HP while the 2015 Ford Flex SE comes with 287 HP. Both crossovers are capable of more than 24 MPG highway. 
While the Ford Edge and Flex are growing tremendously in popularity, Martin Ford Sales still offers a wide selection of new cars and trucks to the Kenosha area. This includes the robust F-150 and the sleek Fusion. As well as new vehicles, Martin Ford Sales has prepared a variety of pre-owned vehicles ranging in many different makes and models. 
Genuine Ford Parts. Genuine Ford Expertise

Our Ford Parts and service department is also ready to serve Kenosha, WI. We only use Genuine Ford or Motorcraft parts to service your Ford car, truck or SUV. Genuine Ford and Motorcraft parts are designed specifically by Ford Motor Company for Ford cars, trucks and SUVs. And while our service department has been highly trained to replace parts on your Ford F150, the service team at Martin Ford Sales is capable of repairing any make or model in Kenosha, WI. 
Our factory trained technicians have decades of experience in servicing and repairing Ford vehicles. Our staff is determined to keep your Ford car, truck or SUV on the streets of Kenosha and out of the service bays.

We're waiting to talk to you about our new and pre-owned Ford cars, trucks and SUVs and we're prepared to do what it takes to help you maintain your Ford for as long as you have it. We're committed to giving you the best deal possible and seeing that your Ford is properly maintained by our expert technicians. 
Give us a call and schedule a test drive!